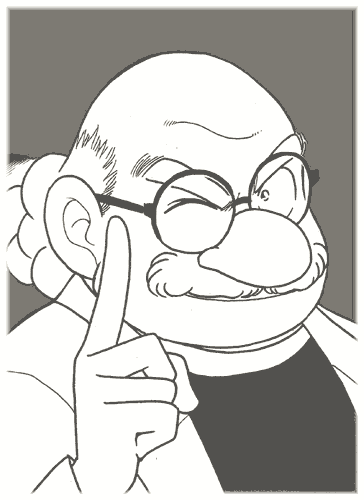 | | |
| --- | --- |
| Age: | 52 |
| Occupation: | Inventor |
| Location: | Beika Neighborhood |

Professor Agasa is Shinichi's next-door neighbor. He works as an inventor, but is prone to many more failures and silly devices than successes. He's the first person to learn of Shinichi's transformation, and is a valuable ally in Shinichi's new life as Conan. Fortunately for Shinichi, the things that the professor invents for him, such as the voice changing bow tie and his super-glasses, actually work rather well.
The professor eventually becomes the chaperone of the Detective Boys, often taking them camping or on tours. He also takes in Haibara Ai when she has no where else to go. Shinichi mentions that the professor has a mole on his butt with a single hair coming out of it. Now, that's detective work!


Story Arcs
Volumes
Featured in:
1, 31, 36, 52, 58, 60, 78, 82, 83, 90, 94, 97, 100, 104, 106, 107, 110, 115, 119, 122, 123
Blah
Appears in:
several
Mentioned in:
quite a few